Season two set for the early part of spring's lineup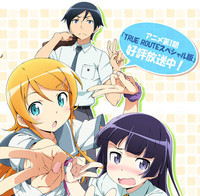 Fans of cute little sisters, otakettes and slice-of-life comedy, get ready. Oreimo is coming to us this spring, and now we know exactly when Kirino, Kuroneko and the gang will return: April 6th.
The announcement came via Oreimo's official site, which posted the premier date for several stations, almost all of which were April 6th (with a handful set to premier the 9th-13th). It came the same day that the new Blu-ray box set for season one landed in Japan.
And for those of you who haven't seen it, here's the trailer for season 2:
We've got about a month to go until the spring season lands. Are you ready?
-------
Amanda Rush is the Associate Editor for Ani.Me and contributor for OtakuCollectionDX. She swears in the middle of the night on Twitter as @TheAnimaven.