Words are more purrrfect with cats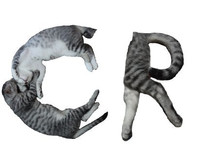 Just for fun, many of us worship cats and many cute images of cats are available on the internet. What else can we do? This new site came to me via Twitter.
Try the Cat Font Generator. "Neko Font" literally turns your words you typed in an alphabet made of cats! The instructions are in Japanese, but you can only type in English. There is not much information about who made this and why it was made, but from what I can see and read on the site, the cat font was made using photos of these cats.
Raizo (top) and Mondo (bottom). Raizo is a boy and loves to clown around, while Mondo is a cool girl who loves to snack. I played with the site earlier and typed some anime-related words that are related to cats.
What would you use Cat Font for?