"Kyary Pamyu Pamyu Museum" also has an interactive program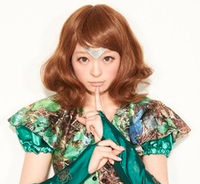 Jpop's kawaii princess, Kyary Pamyu Pamyu will have her first "Kyary Pamyu Pamyu Museum" in Tokyo.
The museum will showcase costumes KPP wore in many different occasions. The official site has already announced the following costumes to be exhibited and more will be added as they become available.
Tsumema Tsukeru PV costume
Fashion Monster PV costume
Budokan live costume
For the full listing of costumes announced so far, click here.
The museum will also have interactive programs for the visitors, titled "Kyary Pamyu Pamyu Museum ~Kawaii Wo Torimodose!~" (translation: Save Kawaii!). Partcipants will go around the museum looking for 4 symbols to save KPP world from becoming "plain" by the bad witch who loves "being plain". (I lol'ed at this, btw.) In this event, the participant's fandom is really tested because to save themselves from the bad witch, they need to wear the headset called "Moshi Moshi" while at the museum.
The Moshi Moshi headset to protect yourself from being plain, literally.
The museum opens this Friday, March 1st till Monday, March 25th in Roppongi Hills umu, Tokyo.
Copyright(C) ASOBISYSTEM All Rights Reserved.