Tiny apartments cost 45,000 yen rent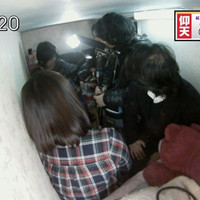 If you've ever wanted to know what living in a coffin feels like, now you can spend about $500 bucks in rent for a capsule apartment in Tokyo.

The apartments are a part of a super share house in some of the more in-demand areas in Tokyo, like Shibuya.
The only upside is that people aren't really expected to live in these tiny apartments - they're mostly aimed at those looking for convenient crash space in the city. So much for missing the last train.
Would you drop $500 on a capsule apartment?
Source: Sankaku Complex (NSFW)
-------
Amanda Rush is the Associate Editor for Ani.Me and contributor for OtakuCollectionDX. She swears in the middle of the night on Twitter as @TheAnimaven.