Adorable cosplay teddy bears in K costumes and more!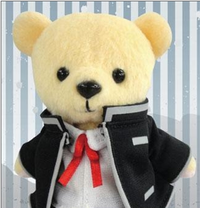 As previously reported, ANIMATE's Kumamate continues to introduce costumes for Kumamate Teddy Bears. A few new costumes from K will be available in March!
Shiro and Kurou's school uniforms will be released on March 28th and Blue King and Red King will be next in May, their images are for reference only. Where is Neko Kumamate? Oh yeah, she is mostly naked and she is a cat afterall.
Sword Art Online's Kirito jacket will also be available in May.
Fate/Zero's Waver and Kariya costumes were released on January 31. The choice of character really gives a hint as to who are Kumamate's main audience. I would have loved to see Kotomine and Kiritsugu Kumamate.