A group of high school students made the evergreen snack war into a high school graduation project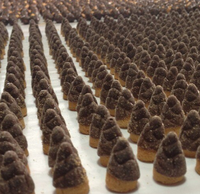 I don't know how it started, but fans of Chocorooms and Chococones fans are always ready to start a battle to decide their favorite snack's superiority and many of those battles happen on Twitter.
A group of high school students made this fiasco into their graduation project. This group of more than 10 people including roles such as a group leader, a writer, someone in charge of purchasing, alignment, a few assistants and finishing posted a thread of photos completed with a story on twitter. It seems like this theatrical project was also broadcast live using TwitCasting.
Scenes from the battle were created using more than 200 of these snacks. Below are the samples of the snack war.
It's been 2 months since the last battle that ended in the name of victory for the Chococones. Even under the peace treaty, butchered bodies of Chococones are found one after another, due to the glut of Chocorooms. who lost their king.
Fed up by the situation, citizens of Chococone Kingdom appealed to their king, and the king did not have any choice but to nod yes.
More than 200 Chococone soldiers gathered. What will the Chocorooms do with this many enemies to face in battle?
The Chocorooms were more than ready. They gathered about the same number of soldiers as the Chococones to finish this war once and for all.
The frontline goes head to head, opening this cruel battle.
The kamikaze attack of angry Chocorooms breaks the frontline of Chococones.
The battle gets heated. Many soldiers are lost.
The Chocorooms bring on "Pocky Arrows" a feared tactic.
Deadly "Pocky Arrows" go straight into the Chococones, resulting in devastating losses.
Chococone solders are defeated, exploded group by group.
In desperation, The Chococone King summons mysterious Drogoon Knights with white armor.
Chocorooms are defeated by the elite knights who are less than 100 in number.
Confused Chocorooms were easily broken up in the center by the Dragoon knights
The war is over, with the victory held Chococones. The mountain of Chocorooms was the result (a word pun in Japanese with the Japanese name of Chocorooms)
Chococones shout in victory again.
See the entire tread of tweets, here.