2011 comedy series being released in June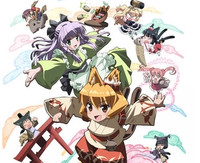 NIS America has once again quietly announced its latest license in 2011 comedy series Nekogami Yaoyorozu, otherwise being retitled as The Everyday Tales of a Cat God. The series will feature NISA's standard Premium Edition treatment with the collectible slipcase, 2 Blu-ray discs, a bonus "13th" episode, extras in 7 mini-episodes, and the hardcover art book as seen below.
Synopsis
Mayu is a cat god, but she is no ordinary god. She has been cast down from the heavens and is now doomed to suffer on Earth...because she just could not stop getting into trouble! One day, she is taken in by the earnest and kind Yuzu, who owns an antiques shop called "Antiques Unlimited." Yuzu quickly learns that Mayu's godly level of laziness knows no bounds, as she would rather play video games than turn over a new leaf. The everyday tales of this cat god and her harrowing adventures to the candy shop, a landfill, a beach resort, and more show Mayu and her friends that sometimes, the simplest things in life are the best. There is also Gonta, who is obsessed with Yuzu, but Mayu wanted his role in this summary to be minimal. So there you have it.
Anyone loooking forward to this one?
---
Humberto Saabedra is the Editor-in-Chief of AnimeNews.biz, PhoneNews.com and an occasional columnist for Ani.me. He can also be found musing on his obsession with Nico Robin at @AnimeNewsdotbiz.