Megpoid's US launch drew a crowd at New People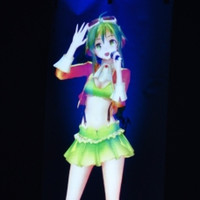 INTERNET. Co. Ltd. hosted VOCALOID 3 Megupoid English release event at NEW PEOPLE in San Francisco, CA on March 3. The free event gathered many Vocaloid fans who received a free demo of Megpoid English. They were also able to buy GUMI merchandise and learn about the new Megpoid English Vocaloid software.
The event consisted of 2 live concerts in the theater and a 30-minute Megpoid English demonstration at the front lobby of New People all through the event.
The live shows featured local Vocaloid producer, Vocalekt Visions and World Vocaloid Dance 01 were also free to attend with limited seating.
The theater was set up with a screen for GUMI to appear.
Official Megpoid English Demo song, "Miraculous Encounter"
World Vocaloid Dance 01 prepped the audience really well with their set list full of hit GUMI songs.
When GUMI appreard on the screen, the theater got heated up. Some fans were screaming "Marry me!".
GUMI with original costume
GUMI came out with her new outfit!
GUMI performed songs in Japanese and in English, and with another Vocaloid, Yuzuki Yukari.
Fans participated the live with glow sticks as they should in any Vocaloid shows. The event provided them, but some brought their own. I was able to talk to some of the attendees and they said they had a lot of fun! One commented the clarity of English of GUMI and others were excited to be able to try the demo.
World Vocaloid Dance 01 set list:
1. Poker Face - YuchaP
2. Your Love Will Surely Sky Rocket - Noboru↑-P
3. Galaxias! - galaxias!
4. Megumegu☆ Fire Endless Night - SAMFREE
Vocalekt Visions set list:
1. Miraculous Encounter - INTERNET Co. Ltd.
2. Summer Festival - Vocalekt Visions feat. Megpoid
3. Overseas Travel by Vocalekt Visions feat. Megpoid
4. Neutrino by Vocalekt Visions feat. Megpoid
5. Lemon 2013 by Vocalekt Visions feat. Megpoid
6. Datte Datte Datte by Takanon feat. Megpoid
7. Seasons Change by Vocalekt Visions feat. Yukari
8. I'm So In Love With You by Vocalekt Visions feat. Yukari
9. Freely Tomorrow by Mitchie M feat. Megpoid
10. Mirai Dokei AM 4:30 by Tonbo feat. Megpoid
11. Tatsumaki Tornado by Vocalekt Visions feat. Megpoid
12. Secret Princess by Vocalekt Visions feat. Megpoid
13. You Are The Reason by NeutrinoP (Vocalekt Visions) and Wolf feat. Megpoid
14. Panda Hero by Hachi feat. Megpoid
Tempo-P of Vocalekt Visions says INTERNET's Megpoid English probably is one of the best English Vocaloid out there in the world. He was very excited to be able to work with Megpiod English with 3~4,000 samples available in the software, he can see a lot of work was put in to create this software.
Other INTERNET Vocaloid were on sale at the event as well.
GUMI Merchandise
INTERNET is also hosting a contest for users to create a demo using the software. Entries are accepted on Nico Nico Douga with "GUMIENGCONTEST" as a locked tag. You can also download the demo for free from the link. All entries are accepted until March 31.