Donuts will sell in Japan beginning April 1st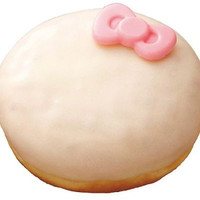 Put it under the "Cool stuff we could have if we were in Japan" file: Mister Donut is selling Hello Kitty donuts. I'm so jelly I'm jelly filled.
The donuts and cupcakes will sell from April first to late May, ranging in price from 136 to 157 yen. However, those who buy 600 yen worth of pink iced goodness will also get a Hello Kitty earphone jack for their cell phones.
Would you eat Hello Kitty?
-------
Amanda Rush is the Associate Editor for Ani.Me and contributor for OtakuCollectionDX. She swears in the middle of the night on Twitter as @TheAnimaven.