Plus pics of crazy new outfits for spring and summer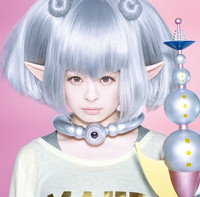 PON PON PON singer Kyary Pamyu Pamyu is following up last year's "Fashion Monster" campaign with a new set of ads created to push clothing retailer g.u.'s spring and summer collection.
Kyary's image character this time is an alien who comes to our corner of the galaxy on a mission to "take over the world with fashion and the power of music". Watch the first CM, featuring Kyary's new song "Invader Invader" in the campaign below.
More commercials in the "fashionable alien" series will be forthcoming, set to star the curiously coiffed Kyary and comedy duo "Peace". In the meantime, here are some of the style coordinates and outfits Kyary will be sporting this spring and summer for g.u..
--------
Patrick Macias is editor in chief of Crunchyroll News. He also runs the Japanese Fashion Inferno tumblr blog. Follow him on twitter at @Patrick_Macias.