"I reject my humanity! JoJo!! I'll transcend humanity! With your Face Maker, JoJo!"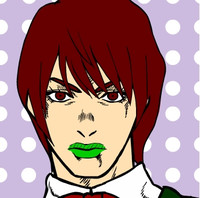 Are you bored out of your mind? Or would you like to have more dramatic shading on your face?
Then try the Jojo Face Maker created by daijin! This JoJo's Bizarre Adventure inspired web service is going around the internet.
Playing with this is simple. Click on the white font that says "Play" in Japanese.
First page is for choosing the shape of the face. You only have two choices for the shape, but you can adjest the length (middle) and the width (bottom) of the face by clicking the blue triangles. Right for more, left for less.
Little tabs at the top correspond with the face parts. On the "hair" tab, first 4 triangles are for chosing and adjusting bangs and the rest are for the whole hair.
While many people try to make their own face, I decided to make a face of a character from an anime. Guess who?
Adjusting the position of the mouth changes the impression of the face so much.
The answer is Ginoza Nobuchika from PSYCHO-PASS.
My best attempt at Jojo-Naruto.
Jojo-Midorima, nanodayo.
Jojo-Aomine that looks a little too feminine.
ENJOY!