Panel held by programming block's staff during convention reveals new additions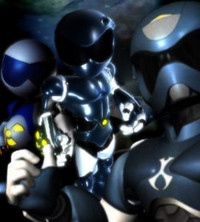 The staff behind the revived Toonami block held its first panel after its return last Spring during MomoCon earlier today, and the news hit hard and fast for the fans in attendance.
First, the biggest news that will no doubt make more than a few fans of the Straw Hats happy is the confirmation that One Piece will be debuting on the block later this year after months of constant demand. The show was formerly broadcast as a part of Cartoon Network's first Toonami programming block earlier in the decade before being phased out in 2008.
In addition, Toonami has announced the first Evangelion Rebuild film in Evangelion 1.11 will air next Saturday night around the block's first wave of regular programming to celebrate the revived Toonami's first birthday.
Outside of those two announcements, the panel also confirmed new designs for the block host, TOM and the set piece for the block in the Absolution, which have received visual overhauls in the wake of the renewed confidence in the programming block since being reinstated last May following an April Fool's event to gauge demand. The new looks will debut in April.
With all of that said, is anyone excited for the new changes in store for Toonami? This might actually get me to watch again.
via Adult Swim Central and @ToonamiNews
---
Humberto Saabedra is the Editor-in-Chief of AnimeNews.biz, PhoneNews.com and an occasional columnist for Ani.me. He can also be found musing on his obsession with Nico Robin at @AnimeNewsdotbiz.