Not many people knew the special relationship Lupin and Zenigata had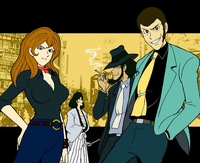 The popularity of Lupin the Third grew in Japan first after the second season of TV anime aired in 1977, but the original manga started in 1967 and there are lots of known and unknown facts about the legendary series. Goo Ranking polled to see which Lupin trivia is most unknown among the fans.
#1. Lupin and Zenigata went to the same university
Zenigata is 3 years older than Lupin. This Senpai definitely noticed this Kohai.
The scene from original manga, Lupin is saying "The children of a thief and a detective got together at a same university".
Source: Zatau-gaku.com
#2. Lupin and Fujiko had a son named "Lupin Kozou (translation: Lupin Boy)"
This was a plot that was brought to the orignal author, Monkey Punch, to run in Shonen Action, the manga magazine for boys in 1974 and not Monkey Punch's original idea. The spin-off manga "Lupin Kozou" ran in Shonen Action for 18 chapters.
Photo source: Lupinmania.com
#3. Goemon was using a smartphone in "Lupin The Third The Last Job"
#4. Zenigata makes 330,000 yen (approx. $3300USD) per month
Through my research, I found out that Zenigata's salary changes from about $2000USD to $10,000USD per month depending on the series.
#5. The dad from Tensai Bakabon appeared in the Lupin TV series once
Japanese comedy classic, Tensai Bakabon's dad made a cameo appearance in one of the episodes of the TV series.
#6. Lupin had long hair during the first planning stage
Monkey Punch drew Lupin wiith long hair at first but changed it to short hair to save work on drawing. According to Lupin the Punch website, the change also signifies the fact Lupin does not stay within cultural norms since every man had long hair at the time because of the Beatles.
#7. Jigen's favorite color of underware is purple
Jigen insisted on purple underwear in few episodes.
Ladies?
#8. Conan from Detective Conan made a cameo in the Lupin the Third OP
This must be before the crossover TV special in 2009, but I was not able to find a back up fact.
#9. There was a musical adoptation
This is the best I could find of any visual evidence. A soundtrack from the musical titled "I'm Lupin". Photos of the actors at the bottom.
#10. Japan and France co-produced an anime featuring Lupin The Third's off spring, Lupin the 8th
The actual anime did not run in France due to copyright complication, but I was able to find a YouTube. It is fan-dubbed in English.
Hope you enjoyed the trivia!