Execute justice on everyday items!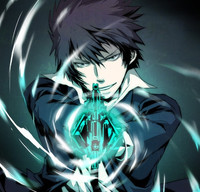 What is the sexiest thing in Psycho Pass? Is it the wild ex-enforcer, Kohgami Shinya? Or the mysterious observer of humanity, Makishima Shogo?
Even though both characters are absolutely awesome, the Dominator gun is the sexiest thing of this season in my opinion.
There is an official garage kit available from Japan that is pretty expensive, and I have seen lots of cosplayers who have made one, but how can you have it in your hand without shelling out your savings to attend cons or spend many sleepless nights struggling to get all the grooves right?
Npw there is a "CScannerFree" available for iOS! This is an iPhone camera and scanner app that has has a "Dominator-feel" to it.
I read the description, downloaded the app and opened it.
The app has an opening sequence that reminds you of how the Dominator boots up in the Psycho Pass anime. That probably was the most exciting few seconds of my evening! Even though there was no Hidata Noriko voice checking my identitiy, it had enough sound effects to make me feel like I was holding a real Dominator.
After the opening sequence, this executionor of justice is ready. It comes with 3 different modes.
You can tap on top right corner where you see the drawing of a Dominator to open Mode Selection. The banner ad will be present as this is a free app for fun, just to let you know...
Color Detector Mode will read the color of the target you tap, give you the closest name of the color and you have a choice of saving it or drop it by swiping to either side.
Psycho Pass Scanner Mode will scan the target's Crime Coefficient. It also takes a photo when it scans for evidence. Just look at that number! As you can see, SIBYL System has decided that my teddy bear has to be eliminated! Let's proceed to Dominator Mode.
I actually found worse latent criminals. Feris Nyannyan and Mayuri had double the Crime Coefficient Index than my bear! So in Dominator Mode, I steadly focus my Dominator (actually, my iPhone camera) to the targets and tap on the blue trigger that appears on the screen. When you pull the trigger, a blue spark appears and blood comes out from the target. When the target is not a threat, the trigger is locked just as in the show.
While I was playing with this app, I experienced few freezes and blackouts, but I was able to restart the app with ease.
I was not able to locate this app at Apple site on PC, but you should be able to find it on iPhone devices. It's out there!