Actresses and popular voice actors to voice the short anime series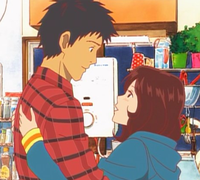 NHK aired the first anime of its anime project titled "Otona Joshi No Anime Time" (literal translation: Anime Time For Adult Females) for females who are older than normal anime target audiences.
There are 3 stories planned and and main characters are all females in thirties. The first story, "Yuge" by Amy Yamada aired in Japan on March 10th.
NHK first broadcast anime from this project in 2011 created by CuriouScope. When the new series was announced, it attracted attention for its expected high quality, by the use of the Naoki Prize awarded short novels as the base and the casting of matching actresses with voice actors.
"Yuge (English: Dinner)" based on a short novel by Amy Yamada
Voice Cast: Nakagoshi Noriko & Namikawa Daisuke
"Jinsei Best Ten (English: Life Best Ten)" based on a novel by Kakuta Mitsuyo
Voice cast: Nakatani Miki & Kamiya Hiroshi
"Dokoka Dehanai Koko (English: Not Somewhere But Here)" based on a novel by Yamaoto Fumio
Voice cast: Kitamura Tae & Fukuyama Jun
To watch the trailers for all 3 stories, click here.