OVA will be released in North America on April 16, 2013 and Japan on the 24th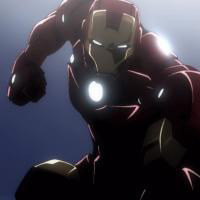 Marvel offers an even better look at Iron Man, Black Widow, Punisher, War Machine and more in Iron Man: Rise of Technovore, an original anime movie coming to Blu-ray and DVD April 16.
Staff:
Director: Hiroshi Hamasaki (Shigurui, TEXHNOLYZE)
Story: Brandon Auman (The Avengers: Earth's Mightiest Heroes!, Iron Man: Armored Adventures)
Character Design: Masanori Shino (Kurozuka, Shigurui)
Screenplay: Kengo Kaji (Wolverine anime)
Music: Tetsuya Takahashi (Appleseed, the other Marvel/Madhouse anime)
Production: Madhouse
English cast includes:
Iron Man / Tony Stark: Matthew Mercer
Frank Castle / The Punisher: Norman Reedus .
Black Widow / Natalia Romanova: Clare Grant
Japanese cast includes:
Tony Stark: - Keiji Fujiwara (Hunter x Hunter's Leorio)
Virginia "Pepper" Potts: Hiroe Oka
James Rupert "Rhodey" Rhodes: Hiroki Yasumoto (Bleach's Chad, Hetalia's Germany)
Ezekiel Stane: Miyu Irino (Mobile Suit Gundam 00's Saji Crossroad)
Nick Fury: Hideaki Tezuka (Naruto Shippuden's Fourth Raikage)
Hawkeye: Shuuhei Sakaguchi (Yakitate Japan's Shuuhei Sakaguchi)
Black Widow: Miyuki Sawashiro (Durarara!!'s Celty, Bakemonogatari's Suruga Kanbaru)
The Punisher: Tessho Genda (Batman in B:TAS and Justice League, Umibouzu in City Hunter, Violence Jack)
------
Scott Green is editor and reporter for anime and manga at geek entertainment site Ain't It Cool News. Follow him on Twitter at @aicnanime.