Launch dates and times TBA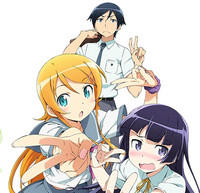 The spring anime season is just on the horizon, and Crunchyroll reps at Kawaii Kon have just made the very first show announcements at this afternoon's panel: Oreimo Season 2 and Sparrow's Hotel are coming your way soon! Launch dates and time have yet to be confirmed, and we don't have region info yet, but both are on their way!
The second season of Oreimo (Short for Ore no Imoto ga Konna ni Kawaii Wake ga Nai, AKA "My Little Sister Can't Be this Cute" is based on the ongoing light novel series by Tsukasa Fushimi and Hiro Kanzaki. A manga adaptation by Sakura Ikeda began in 2009 and made the jump to anime in 2010. Director Hiroyuki Kanbe is slated to return for this new production, which is being animated by A-1 Pictures. Season One of Oreimo is available now for viewing on Crunchyroll.
Sparrow's Hotel is an adaptation of a four-panel comedy manga by Yuka Santoh about a big-boobed front desk clerk at a business hotel who uses assassination techniques to deal with unruly customers. Direction is by Tetsuji Nakamura (Zatch Bell).
Again, launch dates, regions, and time slots have yet to be announced, but stay tuned to Crunchyroll News for more details and show announcements!
--------
Patrick Macias is the editor in chief of Crunchyroll News. He also runs the Japanese Fashion Inferno tumblr blog. Follow him on twitter at @Patrick_Macias.