Official cycling jersey made for "Blue Cyclist" contest worn by voice actor for Yukio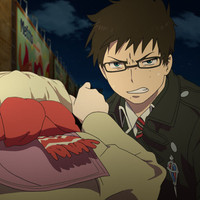 The Blue Exorcist official Twitter account posted new photos of Yukio's voice actor, Fukuyama Jun with the official Blue Exorcist cycling jersey.
The jersey was designed by Blue Exorcist author, Katoh Kazue. It was made as a prize for the movie's promotion last December titled "Blue Cyclist". The promotion took place in Osaka's "Nihonbashi Otaku Road" area and urged fans to spot the customized tricycle riding around the area, take a photo and upload it on Twitter to enter to win the special jersey.
Photo from PIA Kansai
The Blue Exorcist movie opened last December and is currently running in theaters in Japan.