First it was Rook, then Freecell, now what? The visual of the character is revealed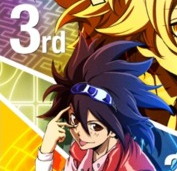 Phi Brain's official Twitter account has posted an image of the new character that looks like Kaito's main antagonist in their third season.
What do you guys think? Since the name is still hidden, it's hard to tell if it's a boy or a girl and that is always very hard to figure out in this series.