Airs on TV Tokyo starting April 2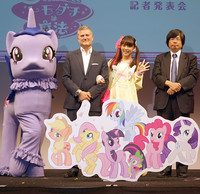 My Little Pony: Friendship is Magic is about to debut on Japanese TV. And as part of the deal, the show is getting a new ending theme song courtesy of perky idol group HKT48 (Fukuoka's answer to AKB48).
The song is called "Kataomoi no Karaage (Amakuchi Hime)" and went on sale yesterday and is expected to be embraced by little kids and and a bold new generation of Brony otaku when My Little Pony: Friendship is Magic airs on TV Tokyo on April 2. A short version of the PV for the song has been unleashed on YouTube and you can sample some of it's sugary pastel tinted magic below...
My Little Pony got the full press conference treatment in Japan a few days ago as Hasbro Studios president Stephen Davis took to the stage, along with HKT48, Bushiroad honcho Takaaki Kidani, the Milky Holmes seiyuu unit (who will be providing voices for the show), and two actual real-life Ponies in person! It looked like this…
Tokyo Hive quotes HKT48 member Miyawaki Sakuraas saying thoughfully, "Though I'm a high school girl, I still enjoyed the anime. I hope the viewers find their favorite pony through this anime."
We can only hope…
--------
Patrick Macias is editor in chief of Crunchyroll News. He also runs the Japanese Fashion Inferno tumblr blog. Follow him on twitter at @Patrick_Macias.