On sale in May for Nearly US$1K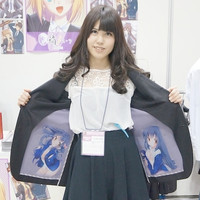 Last week, Crunchyroll News first reported about "Ita-suits", but now these custom-made suits with moe character illustrations emblazoned on the jacket lining are making a big splash at Tokyo Anime Fair, which is now in its third day.
Follwing in the noble tradition of "Ita-cars" and "Ita-bikes", Ita-suits are produced by Cyber Networks, an ad agency based Osaka, under the benevolent-sounding concept of "Always together, together forever".
The goods currently being showcased at TAF feature the Ita-suit Project's original characters and are worm by a biological female, rather than the otaku salaryman most likely to invest in one.
Since the product line was first announced on 3/13, Cyber Networks has received about 30 "gimmie dat" esque inquiries from Japan and from as far away as Malaysia and Italy (maybe Giorgio Armani wants one?).
The company can custom build you one too, provided you have obtained permission from the copyright owner for the character illustrations used on the lining. They are now looking for illustrators to create new characters and are also looking to secure licenses for established anime and manga properties.
The base cost for an original Ita-suit is 88000 yen...about US$928.57. And while I can hear you screaming, "That's too expensive!!!" all the way from here, rest assured that price is actually pretty reasonable for custom made clothing. Anyway, you have until May, when the suits actually go on sale, to save your pennies.
Sources: Mantan Web, Kotaku.jp
--------
Patrick Macias is editor in chief of Crunchyroll News. He also runs the Japanese Fashion Inferno tumblr blog. Follow him on twitter at @Patrick_Macias.