Someone blogged his wish and it quickly became news..until it wasn't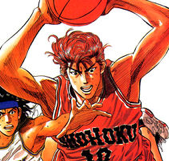 Be careful what you wish for.
A member of known theater production company blogged about making the legendary manga / anime, SLAM DUNK into a musical. He talked about an elaborate plan of using Japanese professional basketball players as actors and voice actors for voice overs as well as having a screen as a backdrop of the stage to show the scenes from the manga while the basketball players perform the scene on stage.
As expected, this created a lot of excited reaction on the internet because he is affiliated with a known theater company with people such as Nakamura Kazuki who wrote Gurren Lagann besides many famous actors and actresses. Many sites even picked it up as news saying it will be a musical. Lots of comments were left for approval and disapproval of the idea.
The problem was, it was only his idea that he would like to make come true and it had nothing to do with the company. At the time of publishing as a news item, he had deleted his own twitter account and the blog entry about the SLAM DUNK Musical idea. It's probably safe to say it may not become a news item again any time soon, and only proved that the series is still very popular.
When I first heard about this, I thought of the live action K-ON! with Gouriki Ayame as Hirasawa Yui "Phishing" news tweet which took many people who clicked the link to here. That totally fake news was highly successful at activating people's craving for Chiken Karaage, at least.
Source: NAVER