New DVD boxset to be released alongside Japanese Blu-Ray set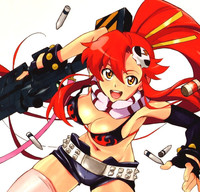 During its panel at Sakura-Con this afternoon, Aniplex USA announced plans to release the 2007 smash hit Gurren Lagann on home video in two new releases later this year. The series was once held by ADV Films before being snapped up by Bandai in 2008 following the former company's collapse, only to be forced out of print when Bandai Entertainment ended operations last year.
The series will be released in two editions: a DVD set featuring the following specifications
Product Details
■27 Episodes and an unaired Ep.6
■Includes 2 Original Soundtrack CDs!
■Original Japanese and English audio
■English subtitles

Bonus Special Feautre Materials
■"Yoko Goes to GAINAX –Study Animation at GAINAX-"
■SAZIGEN 3DCG Test Animation Footages
■Creative Staff Interview
■Shokotan Interview
■Textless Openings and Endings
■Trailers

Special Package & Bonus Materials
■Gurren Lagann Original Soundtrack CDs 1 and 2
■36-page Illustration Booklet
■2-sided poster (Yoko & Kamina)
■2 stickers of Kamina's famous remarks
■12 postcards of Japanese DVD cover art & original illustration by Mechanical Designer You Yoshinari
■Rigid Box illustrated by You Yoshinari (Mechanical Design)
■2-tray clear Amaray cases with reversible wraps of original Japanese DVD cover design
The DVD boxset will retail for $174.99 and will be offered for $139.99 when pre-orders begin on Monday April, 1st. It will be released on May 14th
The Blu-Ray boxset, which we've previously covered, will be offered for $549.99 at the same time as the DVD set on Monday. It will be released on June 26th.

■Includes 15 discs (10 Blu-ray discs + 5 CDs)
■Regenerated to HD format (except for live action footage, OVA episode)
■27 Episodes and an unaired Ep.6
■TV Textless Openings and Endings
■The Movie –Childhood's End- (Japanese, English subtitles)
■The Movie –The Lights in the Sky Are Stars- (Japanese, English subtitles)
■The Movie Textless Endings
■Gurren Lagann Parallel Works (Music Videos)
■Gurren Lagann Parallel Works 2 (Music Videos)
■Gurren Lagann Kirameki☆Yoko Box –Pieces of sweet stars- ("S*t*a*S" PV)
■Eve of Gurren Lagann the Movie (Movie Event footage, Special Drama "Viral's Sweet Dream")
■OVA Ep.5.5 "My Gurren is Shiny!!" (included in DS Game Soft "Gurren Lagann")

Bonus Special Feautre Materials
■"Yoko Goes to GAINAX –Study Animation at GAINAX-"
■"It's Summertime! Drills! Gurren Lagann Festival!!"
■SAZIGEN 3DCG Test Animation Footages
■Interview with Marina Inoue (the voice of Yoko)
■"Believe in the answer that you believe in!! Gurren Lagann Quiz Contest!"
■The Movie –Childhood's End- Premier Event Documentary
■The Movie –The Lights in the Sky Are Stars- Premier Event Documentary
■"VOICES –Testimony of 26 people-" (Staff Interviews)
■Exclusive Drama CD "Otoko no Jouken (Conditions of a Man)! Gurren Lagann" written by Kazuki Nakashima (Screenplay)
■"Otoko Ippiki (Lone Man) Gurren Lagann" (TV Series DVD Bonus Drama CD)
■"Otoko Doahou (Fool Man) Gurren Lagann" (the 1st Movie DVD Bonus Drama CD)
■"Otoko Gumi Dayo (Men's Team) Gurren Lagann" ((the 2nd Movie DVD Bonus Drama CD)
■Original Sound Source of "Gurren Lagann Parallel Works 2" and "Kirameki☆Yoko Box –Pieces of sweet stars-"


Special Package & Bonus Materials
■Exclusive digipaks newly illustrated by Atsushi Nishigori (Character Design)
■Exclusive box newly illustrated by You Yoshinari (Mechanical Design)
■Hard cover book of enormous production materials including never-published initial conceptual art
■Illustration Book: cover art illustrated by Hiroyuki Imaishi (Director)