Begins Fri/12 at 11 am Pacific time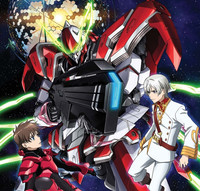 Spring is in the air and new anime announcements are a-buzzing. Need proof? Crunchyroll will soon be streaming Aniplex's new sci-fi title Valvrave the Liberator!
Valvrave, which includes the voice acting talents of Ryota Ohsaka (OniAi, Oreshura) and Ryohei Kimura (Angel Beats, Star Driver), is set to broadcast every Friday starting on April 12 at 11 a.m. Pacific time for its premium members. Free users will be able to watch it one (1) week after immediate broadcast on Crunchyroll.
Story:
"A new age where 70% of the human population lives in space thanks to the development of "Dyson Sphere", a city in space. The world is divided into two main powers: The Dorssia Military Pact Federation, a power which grew out of a military alliance, and the Atlantic Rim United States (ARUS), which grew in power as it expanded its trade agreements.
The minor nation of JIOR has declared neutrality between these two forces and maintains its peace through economic prosperity. Within the JIOR's Sphere, Haruto Tokishima lived an ordinary life as a high school student in the division known as "Module 77"—until the Dorssian military begins their sudden invasion! But the whole world will be shaken when Haruto meets the mysterious humanoid weapon, Valvrave! "
Valvrave the Liberator will be available to Crunchyroll audiences in the following territories: US, Canada, United Kingdom, and Ireland.
The series page will be up soon at www.crunchyroll.com/valvrave
--------
Patrick Macias is editor in chief of Crunchyroll News. He also runs the Japanese Fashion Inferno tumblr blog. Follow him on twitter at @Patrick_Macias.