An ice statue of Gintama's Elizabeth is featured during Anime Contents Expo!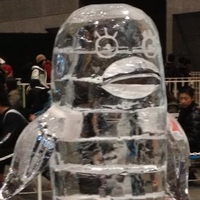 Ice, ice Ellie! How can an anime event get cooler than this? So many updates from ACE 2013 this weekend but check out this photo posted by the official Gintama final movie Facebook page!
Ice sculptors working on Ellie live on the spot!
Now we can all scream "ELIZABESUUUUUU!!" like Katsura. Doesn't this ice statue of Elizabeth make you want to look for a Neo Armstrong Cyclone Jet Armstrong Cannon nearby?