Group's 53rd single goes on sale April 17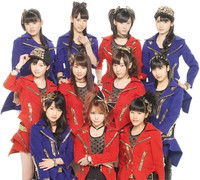 Japanese idol supergroup Morning Musume has been around in one form or another since first debuting i1997. The original lineup helped set the standard for the hyper exaggerated, multiple sub units, too-many-members-to-count style of presentation common the idol scene today.
Now, the current incarnation of Morning Musume's all-singing, all-dancing machine is set to release their 53rd (!!!) single "Brainstorming" on April 17th. And the PV comes complete with English subtitles.
A different "loose shot" version of the PV was released earlier. Compare and contrast for bonus points and no-prizes.
--------
Patrick Macias is editor in chief of Crunchyroll News. He also runs the Japanese Fashion Inferno tumblr blog. Follow him on twitter at @Patrick_Macias.