Starts Monday, April 8th at 10:35 am Pacific Time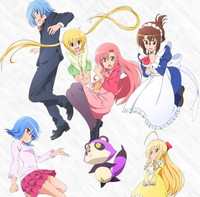 The hail of new anime announcements here at Crunchyroll continues with the addition of Hayate the Combat Butler! Cuties to the spring line up.
This, the latest entry in the Hayate The Combat Butler series, is set to broadcast every Monday starting on April 8th at 10:35 am Pacific Time for its premium members. Free members will be able to view one (1) week after initial broadcast on Crunchyroll.
Story and background:
"Each episode of the latest Hayate series will feature a different heroine as the main character, each with her own drama, her own romance. The first heroine to appear will be... wait, is it really her?! The butler's in for quite a bumpy ride in this overwhelming supportive romantic comedy!"
HAYATE THE COMBAT BUTLER! CUTIES will be available to Crunchyroll's audience in the following territories: Worldwide except Asia.
The series page will be up soon at www.crunchyroll.com/hayatecuties
--------
Patrick Macias is editor in chief of Crunchyroll News. He also runs the Japanese Fashion Inferno tumblr blog. Follow him on twitter at @Patrick_Macias.