Starts Sunday April 7th at 10:05 am Pacific Time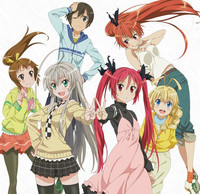 Fans of madcap supernatural comedy, rejoice! Crunchyroll's latest spring 2013 anime announcement is Nyarko-san: Another Crawling Chaos W!
Based on the stories written by Manta Aisora, and inspired by H.P. Lovecraft's Cthulhu mythos, Nyarko-san: Another Crawling Chaos W is set to broadcast every Sunday starting on April 7th at 10:05 am Pacific Time for its premium members. Free members will be able to view one (1) week after initial broadcast on Crunchyroll.
Story
One day a girl with silver hair and blue eyes suddenly appears before high schooler Yasaka Mahiro, calling herself Nyarlathotep, the evil deity in the Cthulhu mythos, and confesses that she is an alien. Thus begins a day to day life filled with all kinds of trouble in a world where humans and evil deities (who are aliens) mix together, with Nyarko and Mahiro at the center.
The chaotic romantic comedy that shook the Japanese archipelago with its rampant high energy makes an even more chaotic comeback! Hey, world - this is the Cthulhu of Japan!
NYARKO-SAN: ANOTHER CRAWLING CHAOS W will be available to Crunchyroll's audience in the following territories: Worldwide except Japan for Premium members and USA, Canada, UK, Ireland, Australia, New Zealand, South Africa, Denmark, Finland, Iceland, Netherlands, Norway, and Sweden for Free members.
The series page will be up soon at www.crunchyroll.com/nyarkow
--------
Patrick Macias is editor in chief of Crunchyroll News. He also runs the Japanese Fashion Inferno tumblr blog. Follow him on twitter at @Patrick_Macias.