Starts Sunday April 7, at 10:00a.m. Pacific Tim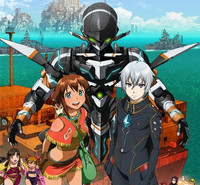 The latest wall-shaking announcement for Crunchyroll's anime spring season is here! Production I.G's Gargantia on the Verdurous Planet will begin streaming shortly!
Featuring scripts and original concepts by Gen Urobuchi (Fate/Zero, Puella Magi Madoka Magica), Gargantia is set to broadcast every Sunday starting on April 7, at 10:00a.m. Pacific Time for its premium members. Free members will be able to view this series one (1) week after initial Crunchyroll broadcast.
Background and story:
The series features the vocal talents of Kaito Ishikawa and Hisako Kanemoto as our main protagonists. GARGANTIA ON THE VERDUROUS PLANET pairs Mr. Ishikawa, who is relatively new to the scene, and Ms. Kanemoto, whose roles include Is This A Zombie?, Kokoro Connect, Squid Girl, and Lagrange; and together they bring Gen Urobuchi's – the acclaimed author of Fate/Zero and Black Lagoon – story to life.
"In the distant future, a planet covered almost entirely by oceans, known as Earth, grows in space. Ledo, a boy who has known nothing but fighting all his life, saw the sea there for the first time. On its vast, faintly green waters, men organize huge naval fleets and live modest but active lives. Due to language and cultural barriers, Ledo lives as a lonely foreigner... but he's not alone. Ledo is just beginning his days on this green planet, asking what he must do to survive here, and what he is living for."
GARGANTIA ON THE VERDUROUS PLANET will be available to Crunchyroll's audience in the following territories: U.S.A., Canada, United Kingdom, Ireland, Australia, New Zealand, Sweden, Denmark, Norway, Finland, Netherlands, Spain, South Africa, Turkey, Brazil, and Portugal.
The series page will be up soon at www.crunchyroll.com/gargantia
--------
Patrick Macias is editor in chief of Crunchyroll News. He also runs the Japanese Fashion Inferno tumblr blog. Follow him on twitter at @Patrick_Macias.