Starts April 6, at 11:00 a.m. Pacific Time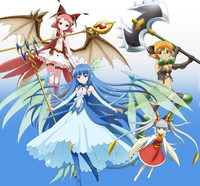 Don't blink! Otherwise, you'll miss the latest spring 2013 anime announcement from Crunchyroll!
Zettai Boei Leviatan, based on the mobile game by GREE is set to broadcast every Saturday starting on April 6, at 11:00 a.m. Pacific Time for its premium members. Free members will be able to view this series one (1) week after initial Crunchyroll broadcast.
Story and background
Based on a new mobile game that GREE has launched in Japan, the trio of heroines in Zettai Boei Leviatan will be voiced by three very talented actresses: Ayana Taketatsu, Eri Kitamura, and Saori Hayami. Ms. Taketatsu has taken lead roles in hit shows like K-ON!, Star Driver, and Date A Live, while Ms. Hayami has appeared in hit series like Heaven's Lost Property, Bakuman, and East of Eden, and both share a common co-starring bond in the Oreimo franchise. Ms. Kitamura's accolades are far and wide, as her roles have extended from C³ to Nisemonogatari (alongside Ms. Hayami), Puella Magi Madoka Magica to LAST EXILE.
"On the blue and green planet of Aquafall: a storm of meteorites blasts through the atmosphere towards this peaceful planet, delivering an unknown scourge threatening all living creatures with extinction. Syrop makes a plea to enlist all the strongest of this world to join the Aquafall Defense, for she cannot save the planet alone.
While traveling, Syrop encounters three very talented warriors from the three dragon clans: Jörmungand, Bahamut, and Leviatan, each with a unique set of abilities that just might save the planet from its destruction."
Zettai Boei Leviatan will be available to Crunchyroll's audience in the following territories: North America, the United Kingdom, Ireland, South Africa, Australia, New Zealand, Netherlands, Scandinavia, Turkey, Central America, and South America.
The series page will be up soon at www.crunchyroll.com/leviatan
--------
Patrick Macias is editor in chief of Crunchyroll News. He also runs the Japanese Fashion Inferno tumblr blog. Follow him on twitter at @Patrick_Macias.