The latest report says September, but a few questions remain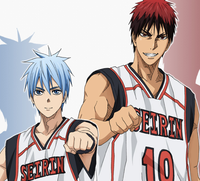 Yaraon and Jin both reported that Kuroko's Basketball's second season of anime will start in September via this article.
The source of the article is not found on either site, but the article talks about how the anime boosted Kuroko's manga sales from 30,000 copies when first published to an additional 50,000 copies after. There is also a comment from "Sumino" director that says Kuroko's anime second season will start in September.
This "Sumino" director is most likely the magazine sales director at Shueisha, but some people still wonder if he meant October since the rerun of the first season will not be finished in September yet...
Either way, it sounds more realistic that fans can expect more Kuroko's Basketball to arrive this fall.