Starts April 9, at 1:00p.m. Pacific Time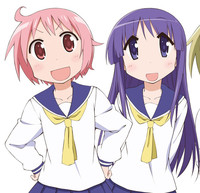 The time has come to tick off another box on the growing list of spring anime at Crunchyroll. The newest show announcement is YUYUSHIKI, based on the gag manga by Komata Mikami!
YUYUSHIKI is set to broadcast every Tuesday starting on April 9, at 1:00p.m. Pacific Time for its premium members, and April 16 for free members.
Background and story:
YUYUSHIKI is based off of a four-panel gag by Komata Mikami. It follows the lives of three high school girls in the data-processing club: Yuzuko Nonohara, played by Rumi Okubo, who also starred in YuruYuri as Chinatsu Yoshikawa, Yui Ichii, voiced by Minami Tsuda who was Yui Funami in YuruYuri, and Yukari, whose voice actress Risa Taneda was Kaoru Asoi from Oreshura.
"Yuzuko, Yui, and Yukari, three girls who just started high school in spring, are always together. After school, the three of them attend their own "Data Processing Club" with two computers and a whiteboard between them, searching for random words on Google and then discussing the results. Their day to day life is mostly uneventful, mainly only consisting of girls flirting, but for some reason it's difficult to tear one's eyes away from this new generation of high school girls' communication. Their cute, laid-back high school lives are defined by hanging out, club activities, and occasional hints of yuri. Au uneventful, good life - that is their "yuyushiki" (rule)"
YUYUSHIKI will be available to Crunchyroll's in the following territories: USA, Canada, UK, Ireland, South Africa, Australia, New Zealand, Netherlands, and Scandinavia.
The series page is up now at www.crunchyroll.com/yuyushiki
--------
Patrick Macias is editor in chief of Crunchyroll News. He also runs the Japanese Fashion Inferno tumblr blog. Follow him on twitter at @Patrick_Macias.