Starts April 11th at 9:30 am Pacific Time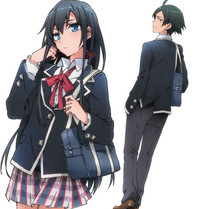 Another new anime announcement has arrived from Crunchyroll. My Teen Romantic Comedy SNAFU, based on the light novels by Wataru Watari, is joining the spring 2013 lineup.
My Teen Romantic Comedy SNAFU is set to broadcast every Thursday starting on April 11th at 9:30 am Pacific Time for its premium and free members.
Background and story:
Based on a series of light novels by Wataru Watari, the anime My Teen Romantic Comedy SNAFU (also known as OreGairu) is directed by Ai Yoshimura (Oreimo, Gintama) and produced by Brains Base (Baccano!, Natsume Yujin-cho).
"So exactly what's going to happen when Hachiman Hikigaya, an isolated high school student with no friends, no interest in making any and a belief that everyone else's supposedly great high school experiences are either delusions or outright lies, is coerced by a well meaning faculty member into joining the one member "Services Club" run by Yukino Yukinoshita, who's smart, attractive and generally considers everyone in her school to be her complete inferior? But wait, we haven't added the third caustic ingredient yet! Meet Yui Yuigahama, who's cute, bright, cheerful and apparently needs the service club's help to bake cookies. Is this a recipe for romance or will the end product be poison gas or a nuclear meltdown? Will there be cookies, nookie or a reason for everyone to play hooky? Get ready for romantic comedy gone totally wrong as the barrage à trois of the Service Club is unleashed on the unsuspecting student body in MY TEEN ROMANTIC COMEDY ~ SNAFU!"
MY TEEN ROMANTIC COMEDY SNAFU will be available to Crunchyroll's audience in the following territories: United States, Canada, South Africa, Finland, Norway, Sweden, and Denmark.
The series page will be up soon at www.crunchyroll.com/snafu
--------
Patrick Macias is editor in chief of Crunchyroll News. He also runs the Japanese Fashion Inferno tumblr blog. Follow him on twitter at @Patrick_Macias.