On one side, it's all red, while the other side is bloody red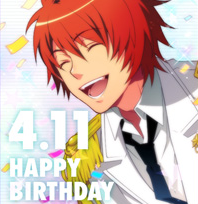 As previously reported, Ittoki Otoya, the red one from Uta No Prince Sama 2000% is celebrating his birthday on the 11th and as soon as 4/11 hits Japan, a lot of Otoya fans posted their birthday wishes on Twitter. Caution, many images are extremely red.
There were lots of images that had curry since it's the idol's favorite food.
Nico Nico Douga screen on the birthday with comments for Otoya.
The Uta Pri Official account created a flower with Curry Pan, deep-fried bread with curry stuffing in honor of his birthday.
For more of Otoya's birthday images, click here.
Meanwhile, some royal fans are quietly celebrating their master's birthday. It's Kayneth Archibald El-Melloi from Fate/Zero. According to Urobuchi Gen, the original writer of Fate/Zero, Kayneth received the most chocolate on this year's Valentine's Day.
Kayneth's birthday was celebrated in the way they celebrated in previous years.
His birthday cake from 2012.