Starts Sunday, April 14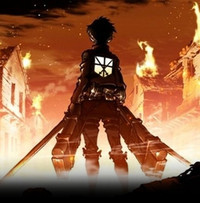 Far and away, one of the most asked questions of the spring 2013 anime season has been "Is Crunchyroll going to stream Attack on Titan?" Now the truth can be told…and the answer is "YES!"
The latest jewel in the Production I.G crown, based on the manga by Hajime Isayama, begins broadcasting on Crunchyroll Sunday afternoon starting on April 14, with final time to be announced on Sunday. Free users will be able to view one week after initial broadcast.
Story:
"Many years ago, the last remnants of humanity were forced to retreat behind the towering walls of a fortified city to escape the massive, man-eating Titans that roamed the land outside their fortress. Only the heroic members of the Scouting Legion dared to stray beyond the safety of the walls – but even those brave warriors seldom returned alive. Those within the city clung to the illusion of a peaceful existence until the day that dream was shattered, and their slim chance at survival was reduced to one horrifying choice: kill – or be devoured!"
Attack on Titan will be available to Crunchyroll viewers in the following territories: United States, Canada, United Kingdom, and Ireland.
You may now begin dancing in the streets and hugging strangers!
--------
Patrick Macias is editor in chief of Crunchyroll News. He also runs the Japanese Fashion Inferno tumblr blog. Follow him on twitter at @Patrick_Macias.