Posters, illustrations, autographs by anime voice actors, and more!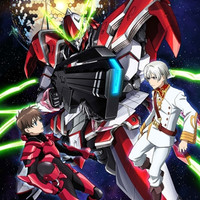 In commemoration of the start of broadcasting, Tokyo Anime Center in the Akihabara UDX building is now holding a special exhibition for one of the most anticipated Spring 2013 TV anime Valvrave the Liberator since yesterday. The new TV anime is produced by an acclaimed Japanese anime studio Sunrise that has been famous for its popular robot/Sci-Fi anime series such as Mobile Suit Gundam, Cowboy Bebop, and Code Geass: Lelouch of the Rebellion.
The event features autographs by the anime voice cast including Nana Mizuki (Kriemhild), Yui Horie (Rion Nanami), Haruka Tomatsu (Saki Rukino), posters, illustrations for the anime magazines, and anime scene panels. You can check the video report of the exhibition provided by Akiba Scope below.
Valvrave the Liberator is now available to Crunchyroll audiences in the following territories: US, Canada,
United Kingdom, and Ireland.
via: Akiba Scope
© SUNRISE/VVV Committee, MBS