Expected to be in theaters in Japan this fall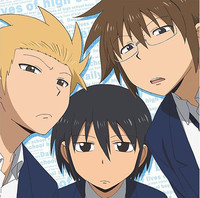 Every time people say we need more comedy, I hear "a comedy like Daily Lives of High School Boys". That's how much people love the manga and Matsui Daigo, the director of Afro Tanaka is taking on the project of making the popular manga into a live action movie.
Even after the anime is over, people still crave the hilarious everyday moments of a life of highschool boys and girls. Originally a web manga on Square Enix Web Magazine, Gan Gan Online, the still ongoing manga will become a live action movie with following cast.
Suda Masaki as Tadakuni
Nomura Shuhei as Yoshitake
It doesn't look like Yoshitake will have blond hair as in the manga and anime.
Yoshizawa Ryo as Hidenori
How many of you remember this scene?
Director Matsui spent his high school years in all-boys school on top of a mountain. He can identify with the Daily Lives so much and looking at the boys' logic objectively, it is so simple and silly that it makes him feel sad and embearassed that in the end, it felt like he was making his documentary while filming it.
The movie will be an original story where the boys' highschool will hold a joint school festival with the neighboring all-girls high school. There will be movie original characters, too. The filming started in January and will be in theaters in Japan this Fall.
Source: eiga.com