Characters in different clothing and deformation!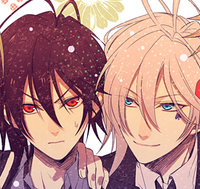 The Otomate Staff blog has posted 2 new pieces of art from Amnesia's key artists, Hanamura Mai and Natsume Uta. In Hanamura's illustration, the characters look exceptionally fresh in suits out of their usual deck-of-cards inspired theatrical costumes, which is also their standard clothing. They were posted to celebrate the release of the series' latest game, "Amnesia Crowd", which was released on April 18th in Japan.
Illustration by Hanamura Mai
I am speechless at this Kent! His name is spelled as "Kent" as in the official site.
Illustration by Natsume Uta
All the characters are in work clothes in super deformed style.
When I think about Amnesia character clothing, this joke image always comes to my mind because of how well the voice actor, Kiyasu Takehito, blends in with the rest.