Hundreds of participants redraw every page of "Akira" with Bart replacing Kaneda and Milhouse standing in for Tetsuo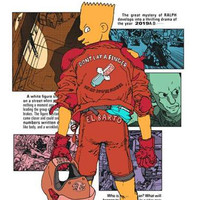 If you follow comics, especially art or indie comics, you'll often hear about interesting collaborative projects. However, this one is so crazy that it seems inspired by one of the drugs the Clown gang sells. James Harvey's Bartkira Project is a comics event where every participant takes five pages from the original Akira manga, to collectively redraw the entirety of the work, in their own styles, with characters from The Simpsons.
Given the parameters, it took 468 participants to get through the six volumes of Katsuhiro Otomo's complete work.
The mapping of Akira characters to Simpsons ones:
Other rules:
-ALWAYS always change character names in the dialogue to their Simpsons equivalent. So Tetsuo is always 'Milhouse', 'Akira' is always 'Ralph'. Mr. Nezu is always Mayor Quimby.
-When spoken in dialogue or narration, ALWAYS change the words "Neo-Tokyo" to 'Springfield'. 'Japan' to 'America'. 'America' is now 'China'.
-however, DON'T change inner-city location names when they're referred to in the dialogue. if the artist wants to change the council chambers to look like Burnsie's power plant, though, that's up to them.
- it's up to the artist whether a character wears their outfit from The Simpsons or their equivalent's outfit in Akira. Sometimes costume changes are worked into the plot, though… so if Tetsuo puts on a cape or a fur coat, then the artist should probably give Milhouse a cape/fur coat too.
-in the few occasions where Humphrey cast against gender, artistsnshould swap the gendered pronouns- so 'Kiyoko is in her room' becomes 'Todd is in HIS room'.
-Make it awesome
The deadline for artists is May 24th, so get psyched for next month!
UPDATE - credits correced
-------
Scott Green is editor and reporter for anime and manga at geek entertainment site Ain't It Cool News. Follow him on Twitter at @aicnanime.