New single by Shiritsu Ebisu Chuugaku goes on sale June 5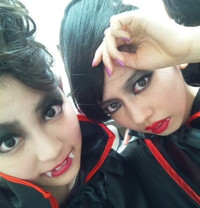 Vampires everywhere! Doing the shimmy shake! What's going on?
Well, Shiritsu Ebisu Chuugaku are yet another girl group emerging from the Stardust Promotion Agency, home of pop idols Momoiro Clover Z. But while the formerly wacky Momoiro has been increasingly serious of late in their PVs, Shiritsu Ebisu Chuugaku sees fit to break out the vampire capes, day glow paint, and even comedy noses for the PV for their new song "Kindan no Karma" below.
The song is the opening theme for the new TV Tokyo Drama "Vampire Heaven" and goes on sale on June 5th in Japan, so you still have a few weeks left to stock up on garlic and crosses.
BONUS! Shiritsu Ebisu Chuugaku's Vampiriffic promo artwork for the "Kindan no Karma" single. Pretty terrifying, huh?
--------
Patrick Macias is editor in chief of Crunchyroll News. He also runs the Japanese Fashion Inferno tumblr blog. Follow him on twitter at @Patrick_Macias.