Japanese people do not have anymore excuses to not make a contract!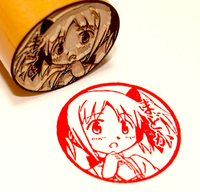 It really seems like everything can be "Ita"-nized! Now making a contract with Kyubey got much easier, thanks to Itaindo, a Japanese stamp maker specializing in otaku stamps.
Itaindo licensed Puella Magi Madoka Magica images to create these Japanese stamps. Customers can choose what name to be on the stamp and these can be used as an official seal at most places in Japan. That means, you can take this stamp with your name of it and stamp a financial document at a bank to make it offcial, not to mention officially closing any type of contract.
MadoMagi Collaboration stamps are only available in a limited quantity, and the first 500 customers will also receive a special Kyubey stamp pad.
Circle stamps are 3,600 yen and square stamps are 3,980 yen. Customers can choose up to 6 letters for the name.
Madoka
Homura
Mami
Kyoko
Sayaka
Kyuubei
Copyright on the side of the stamp shaft.
copyright (C)2013 e3paper all rights reserved.