Spear of Longinus fork included to eat the tall burger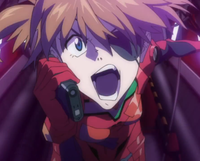 Lotteria, a Japanese fastfood chain, will sell a special burger to celebrate the release of the Evangelion: 3.0 You Can (Not) Redo Blu-ray and DVD. The burger is named "Q Dan Cheese Burger" with 9 beef patties and slices of cheese, which is a pun on the pronunciation of number "9" in Japanese, "Kyu".
On sale from April 24th for 1,280 yen at Lotteria, the burger comes with an original Spear of Longinus fork, to help with eating the tower of meat and cheese.