"Yotsuba&!" Twitter feed gets into the spirit of the day while Mobage game goes a bit off message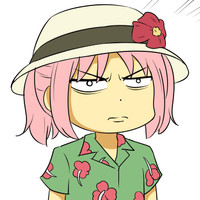 It's magic girls' least favorite holiday! Named for 8th century Saint Walpurga, Walpurgisnacht is the spring mirror of Halloween, and likewise has become thought of as an occasion for witches to gather. As such, hit anime Madoka Magica took the name for the uber-destructive composite witch driving much of the series' terror.
She will turn all of fate's misfortune to nothing.
She will flood the earth with magic,
and take all of humankind into her play.
A moving stage construction.
If everything is a play, no unhappy things will exist.
It may be a tragedy, but it'll all be part of the script.
The play stops on Walpurgisnacht,
and the earth does not turn even once more.
The story will not change.
Tomorrow, and the day after, is the night of Walpurgis.
via http://www.pixiv.net/member.php?id=4247178
The Yotsuba&! Twitter feed got into the spirit of the day, posting a Walpurgis Night spooked Yotsuba
as well as
On the other hand, the Madoka Magica Mobage game seemed a bit off with its release of Bunny Eared Maid designs
-------
Scott Green is editor and reporter for anime and manga at geek entertainment site Ain't It Cool News. Follow him on Twitter at @aicnanime.