It's always nice to see F/Z characters in a peaceful setting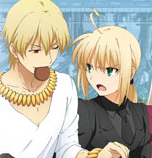 No matter how cruel and gruesome the show's ending was, it's great that ufotable keeps giving us fans the glimpse of how the show could be if their world was peaceful. The Machiasobi project, lead by ufotable CEO Kondou Hikaru to promote his home town of Tokushima with anime was successful at creating a special package of samples of 5 popular and established local sweets, with Fate/Zero characters being gathered in this family-friendly poster to promote it.
I was a little devastated that Sola-Ui is missing, but I survived by looking at how happy the Emiya family looks together, not to mention Caster in the chibi sea monster and his biggest fan waving at him. It's so cool.