Also doubles as the opening theme for DEVIL SURVIVOR 2 THE ANIMATION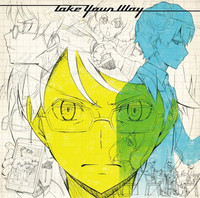 Leading Vocaloid tunesmiths livetune – who have delivered a lot of good music and accompanying clips recently, including "Transfer" and "Re:Dial" – have just released a short-but-sweet animated teaser for the upcoming PV for their song "Take Your Way", which also doubles as the opening theme for this season's DEVIL SURVIVOR 2 THE ANIMATON.
The vocals come courtesy of Fusuke from the band Sekai no Owari while artist Fantasia Utomaro is responsible for the striking visuals and direction, which seems to reference the old "Itano Circus" missile battles of yore. The single drops on June 5th and we will post the whole video as soon as it pops up. In the meantime, consider yourself TEASED!
BONUS: Art for the "Take Your Way" CD + DVD single
--------
Patrick Macias is editor in chief of Crunchyroll News. He also runs the Japanese Fashion Inferno tumblr blog. Follow him on twitter at @Patrick_Macias.