Learn the languages of spring 2013 anime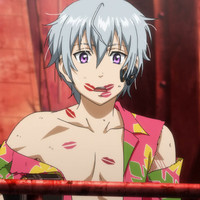 Between the language of Ente Isla in The Devil Is a Part-Timer! and the ones in Gargantia on the Verdurous Planet, we're getting a nice selection of fictional languages in this season's anime. However, for better or worse, it's not Tolkien caliber language otaku inventing these things. And, as such, a month into the season, looks like they've been cracked.
Entean is basically letter substition English, with vowel keeping their original position.
ABCDEFGHIJKLMNOPQRSTUVWXYZ
           ↓
AZYXEWVTISRLPNOMQKJHUGFDCB
for example,
Human→Tupan
Majesty→Pasejhc
World→Foklx
Let us go→Leh uj vo
The spoken language in Gargantia is basically German.
The IGHL's written alphabet is basically English. Though sometimes it writes out English and other times it's German again.
As is Gargantian
The Adventures of Huckleberry Finn makes an appearance

-------
Scott Green is editor and reporter for anime and manga at geek entertainment site Ain't It Cool News. Follow him on Twitter at @aicnanime.