Begins streaming tomorrow Wed/8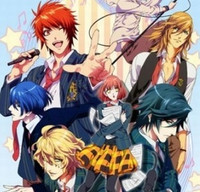 As some of you certainly already know, Season Two of the male idol anime known as Uta no Prince Sama is currently streaming here on Crunchyroll, and now…Season One is joining the catalog as well!
Starting tomorrow, Wed/8, three additional episodes of Uta no Prince Sama season one will be available for viewing the same time as season two: every Wednesday at 11:05am Pacific Time.
As for territories, they're the same for both seasons too: USA, Canada, UK, Ireland, Australia, New Zealand, South Africa, Netherlands, and Scandinavia.
Synopsis:
When Haruka gets the chance to take the entrance exam for Saotome Academy for the Performing Arts, it seems as though she's one step closer to her dream of composing songs for her favorite singer, Hayato. However, this is no gleeful high school musical experience, and Haruka's hiding a dreadful secret that may silence her musical ambitions forever. And even if she does get into Saotome, the competition will be more brutal than going on Japan's Top Idol! That's because, as a writer, Haruka could be paired with any one of six radically different male singers. Will it be upbeat Otoya, serious Masato, flirtatious Ren, split-personality Natsuki, optimistic Syo, or the unapproachable Tokiya, who's rumored to be Hayato's brother? And just to make things more complicated and awkward, writers and singers are expressly NOT allowed to become romantically involved! Can one girl and six handsome young men learn to make beautiful music together in a strictly Platonic sense? They can if the oddball staff of Saotome, most of whom are current and former idols themselves, have anything to say about it in Uta no Prince Sama!
--------
Patrick Macias is editor in chief of Crunchyroll News. He also runs the Japanese Fashion Inferno tumblr blog. Follow him on twitter at @Patrick_Macias.