OVA previously a VHS-only rarity released by ADV Films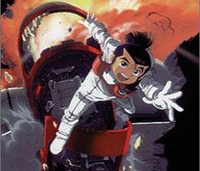 Discotek Media continues its track record of licensing rarities and obscurities by picking up a former ADV Films VHS title in Mighty Space Miners. The 2 episode OVA was originally planned for 6 episodes and featured such notable production staff as Toshihiro Kawamoto handling character designs.
However, older anime fans that had access to MTV in the mid to late 90's would remember the OVA best for being included in one of the network's former animation anthologies in Cartoon Sushi, which took existing animation and heavily edited both the footage and the audio for hilarious results, as seen below.
---
Humberto Saabedra is the Editor-in-Chief of AnimeNews.biz, PhoneNews.com and an occasional columnist for Ani.me. He can also be found musing on things at @AnimeNewsdotbiz.