Congratulations! Dam-sama became the first prince to score the Oricon Daily top spot in Uta Pri history!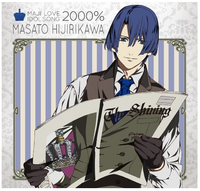 The idol group STARISH, featured in Uta No Prince Sama have been releasing songs and the sales are nothing short of remarkable in Japan. One of the STARISH members is Hijirikawa Masato or Dam-sama for his fans who is voiced by Suzumura Kenichi, scored the Oricon Daily #1 spot on the daily chart on May 8th.
The anime OP, Maji LOVE 2000% also snatched the #2 spot on Oricon Daily chart on April 27th, fellow STARISH member, Kurusu Sho's single TRUE WING also made it to #4 on the Oricon Weekly chart, but Masato's single, Koizakura, became the first song to score a #1 on the Oricon Daily in UtaPri history.
Koizakura / Sanctuary CD jacket. As you see in Episode 4, Koizakurais is also UtaPri's first Enka song.
Congratulations Masato! He may have not gotten much action with Haruka in his episode, but he scored big!
Meanwhile, a fan in Japan created a CD jacket for Koizakura that looks as good as the official one.
With more solo songs by the princes waiting to be released, this may not be the last time we see an UtaPri song land a #1 on the Oricon charts.