"Invader Invader" single now on sale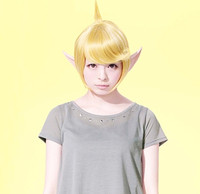 Kyary's incredibly strange commercials for Japanese clothing chain GU continue with a new spot featuring the PON PON PON one's latest song "Inavder Invader".
For those of you just joining the saga, the campaign features Kyary as an alien who comes to our corner of the galaxy on a mission to "take over the world with fashion and the power of music" (you can watch the previous CMs here and here). And this time, she's added shorts and other items priced below 1000 yen (cheap) to her arsenal…
BONUS! GU's latest promo pics for the "Fashionable Invader" campaign featuring apparel seen in the commercial.
--------
Patrick Macias is editor in chief of Crunchyroll News. He also runs the Japanese Fashion Inferno tumblr blog. Follow him on twitter at @Patrick_Macias.